Electrified Vehicles
Hybrid • Plug-In Hybrid • Fuel Cell Electric • Battery Electric
As our lineup of electrified vehicles continues to grow, discover an impressive balance of efficiency and power—whichever powertrain you choose. (bZ4X and Tundra i-FORCE MAX shown. Available by mid-2022.)
Get to Know Our Diverse Electrified Lineup
Learn about the different ways an electrified Toyota makes every day happen.
Electrified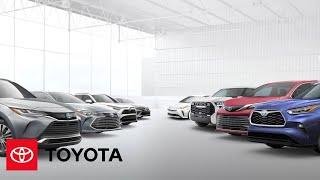 Hybrid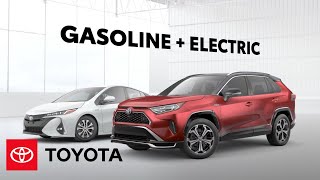 Plug-in Hybrid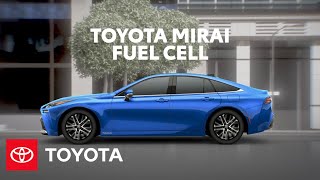 Fuel Cell Electric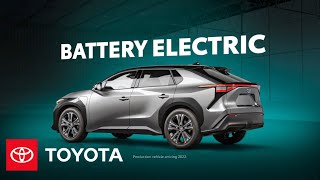 All Electric
We're Going Beyond Zero
As a leader in electrification, we're bringing an all-electric way of thinking to help propel us toward a more sustainable future. The bZ4X symbolizes our commitment to push things further and progress toward a world that surpasses zero emissions.
The bZ4X
The bold, provocative exterior of this SUV blends modern form with undeniable presence and is sure to keep you shining bright among the city lights. Inside, a panoramic roof enhances the feeling of space, while its intuitive technologies and comfort features effortlessly put you at ease for every drive.
View Inventory
Take It to the MAX
The all-new i-FORCE MAX engine delivers uncompromising power with impressive efficiency—all with the quality, durability and reliability that Toyota trucks are known for.
Tundra i-FORCE MAX
This all-new hybrid system pairs a 3.5-liter twin-turbo V6 engine with an electric motor to generate an amazing 437 horsepower and 583 lb.-ft. of torque. And because the electric motor is placed between the engine and transmission, you get instantaneous power to keep your adventures going.
View Inventory
Anywhere Is on the Table
The confidence to get out there and the efficiency to keep going. Venza, RAV4 Prime, RAV4 Hybrid and Highlander Hybrid tap into the power of electric and give you the freedom to go the distance and discover more.
2022 Venza
Whether you're checking out a new boutique in the city or making your weekend escape, Venza's all-hybrid powertrain helps you enjoy the extra miles with a class-leading EPA-estimated 39 combined mpg, 165 and 219 combined net horsepower. And its standard AWD capability, driver-focused tech and refined style position Venza in a league of its own.
View Inventory
2022 RAV4 Prime
City trips. Road trips. No problem. When fully charged, RAV4 Prime has up to an EPA-estimated 42-mile EV-only rating. 163 This powerful SUV is our quickest RAV4 yet, with an impressive 302 combined net horsepower and an EPA-estimated 94 MPGe. 116 Thanks to the ability to seamlessly select between EV and hybrid modes, RAV4 Prime is ready to go wherever your mind takes you.
View Inventory
2022 RAV4 Hybrid
Take your adventures farther with RAV4 Hybrid's advanced engine that produces an ample 219 combined net horsepower and has an EPA-estimated 41 mpg city. 124 A hybrid-exclusive XSE grade pushes it further, with its sport-tuned suspension and styling.
View Inventory
2022 Highlander Hybrid Bronze Edition
The hybrid for larger crews, Highlander Hybrid has the power and efficiency you want, with the space you need. It seats up to eight and has a manufacturer-estimated mpg of up to 36 combined 45 and 243 combined net horsepower, to take everyone the distance.
View Inventory
Efficiency Meets Style
Corolla Hybrid, Camry Hybrid, Avalon Hybrid and the all-hybrid Sienna show that good looks can go a long way.
2022 Corolla Hybrid
The Corolla Hybrid has all the efficiencies of a hybrid paired with Corolla's stunning design. With an EPA-estimated 52 combined mpg, 43 you can go farther in everything you do.
View Inventory
2022 Camry Hybrid
Camry Hybrid is always dressed to impress with its captivating style, and excels when it comes toresponsive performance. Camry Hybrid's Dynamic Force Engine has both power and premium fuel economy ratings to help optimize efficiency.
View Inventory
2022 Avalon Hybrid
Striking in every detail, Avalon Hybrid will inspire you to see how far your ambition will take you.
View Inventory
2022 Sienna
Stylish on the outside. Functional on the inside. With a hybrid powertrain and available All-Wheel Drive (AWD), Sienna has the versatility to keep up with your lifestyle.
View Inventory
Over 20 Years of Prius
It's been over two decades since we introduced the originator of Toyota's hybrid lineup, and Prius still isn't done evolving. From Prius Prime's plug-in hybrid flexibility to Prius' available AWD-e, 166 get ready to make the most out of every day.
2022 Prius
Have it all with the 2022 Prius. It's geared up to take on your every whim with its style, tech and capability features that'll leave you inspired. With ample cargo space 167 and available AWD-e, 166 Prius continues to set the standard for the modern-day hybrid.
View Inventory
2022 Prius Prime
With the power to run in either EV or hybrid electric driving modes, Prius Prime has an EPA-estimated 25 miles of driving range in EV Mode. 164 So if you can't plug it in, don't worry—Prius Prime has an EPA-estimated combined 54 miles to the gallon. 152
View Inventory
Innovation Is Power
Setting the pace for all Fuel Cell Electric Vehicles, Mirai generates power by combining hydrogen with oxygen from the outside air.
2022 Mirai
Mirai's sleek design is as innovative as its engineering. Low, long and wide, it's aerodynamic stance and premium platform deliver a dynamic drive that'll make you rethink the power of hydrogen.
View Inventory